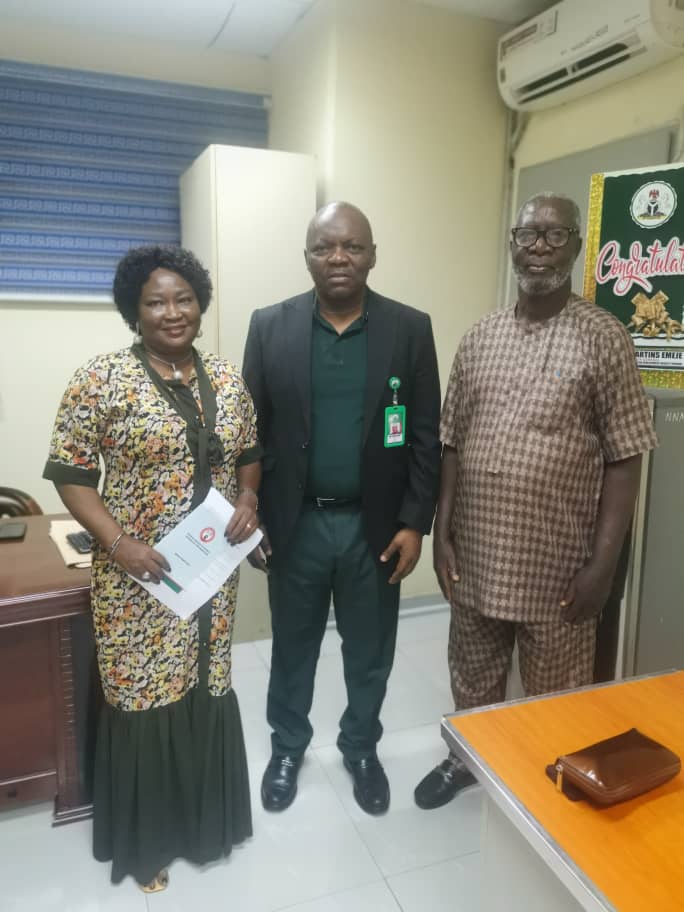 Today, Mrs. Emma Ekpo, Deputy Director of the Reform Coordination Department, and Michael Oyibo, the Nodal Officer of SERVICOM, from the Federal Ministry of Science, Technology, and Innovation, paid a momentous courtesy visit to Prof. Martins Emeje, the esteemed Director General/Chief Executive Officer of Nigeria Natural Medicine Development Agency (NNMDA).
During the meeting, the visitors expressed their commitment to bolstering the SERVICOM (Service Compact with All Nigerians) initiative at NNMDA. The primary objective of SERVICOM is to ensure efficient and effective service delivery to the public, and with this promising alliance, the NNMDA is poised to further enhance its service standards and meet the expectations of the Nigerian citizens.
Prof. Martins Emeje warmly welcomed the support and cooperation offered by the Federal Ministry officials, emphasizing that a strengthened SERVICOM will significantly contribute to advancing the agency's mission and vision. He expressed his gratitude for the acknowledgment of NNMDA's dedication to serving the people of Nigeria through natural medicine development.
The visitation is expected to streamline processes, improve transparency, and enhance overall service quality. As a result, citizens can look forward to even more accessible, reliable, and customer-focused services from the Nigeria Natural Medicine Development Agency.
The Federal Ministry officials assured that they would work closely with Prof. Martins Emeje and the entire NNMDA team to identify areas of improvement and implement best practices to further elevate the agency's performance under the SERVICOM framework.
This promising development signifies a significant step forward in the pursuit of excellence and reinforces the commitment of both the Federal Ministry of Science, Technology, and Innovation and the Nigeria Natural Medicine Development Agency to uphold the highest standards of service delivery.
As this alliance takes shape, Nigerians can expect a more robust and responsive NNMDA, dedicated to advancing natural medicine development and prioritizing the needs of the Nigerian people.